Shrove Tuesday better known to many as Pancake Tuesday or Pancake Day is linked to Easter and the date changes each year.  Whether you are celebrating Pancake Tuesday in the traditional sense or just want to join in on the pancake fun we have a recipe for you!
Pancakes are traditionally made from flour, eggs, sugar and fat.  We chose canola oil because it is our local choice and good for our hearts!  It turns out that we have more than 7 variations of pancakes to share.  A mix of traditional with modern means a pancake for every palate.
7 Pancake Recipes – Perfect for Dinner Tonight
Bookmark this recipe and use the next time you plan to serve breakfast in bed. A classic breakfast staple your family is sure to love! Our pancake recipe contains whole-wheat flour, canola oil and mashed bananas. Serve topped with fruit for an even healthier breakfast.
Apples are sautéed in an oven-proof skillet with brown sugar, cinnamon and nutmeg. A simple pancake batter is added to the pan where it bakes and rises in the oven. A showstopper to pull right from the oven and onto the breakfast table.
These pancakes pack all the taste of cinnamon and raisin without the gluten for those who eat gluten-free. The flour is replaced with brown rice flour, tapioca and potato starch. Top with fruit instead of syrup for an even healthier treat!
Crepes can be an excellent main course, appetizer or dessert. Use sweet or savoury fillings – fruit, strawberry sauce, whipped topping, brown sugar and apple slices, chocolate chips, chocolate mousse, custard, cream cheese, sautéed vegetables, cheddar cheese or feta cheese, chunks of tuna, ham, chicken and a variety of sauces. The list is endless!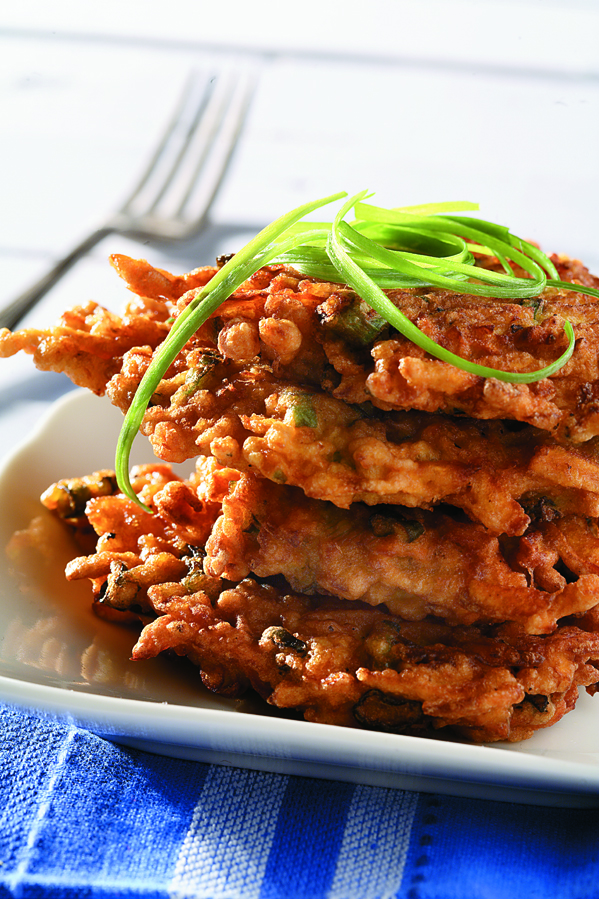 A great addition to any breakfast buffet, a quick dinner on the go and sure to become a family favourite. You can easily substitute or combine red skinned potatoes with the sweet potatoes. Try with maple syrup or maybe a dollop of sour cream is more your style.
Apple pancake rings. How fun! Slices of apple are dipped in pancake batter, grilled and topped with a streusel topping.
A twist on traditional latkes! This classic Canadian potato pancake recipe is  great on it's own or as a side dish.  Try it and you will love them.  They can be served with the spicy Corn Salsa or try them with apple sauce.
My family loves pancakes and I'm sure if my kids were given the choice they would make every Tuesday – Pancake Tuesday.  What are you making for dinner tonight?!?
Eat Well…Jenn
(This post was originally posted on February 16, 2015. This is an updated version.)